My Team
I take customer service very seriously. So does my staff. Together, we are committed to providing exceptional customer service to all of our clients.
If you need to schedule an appointment or request any other service, please let us know. We will respond promptly.
Brian S Lifferth, MBA, CFP®, RICP®, CLU®
Associate Wealth Management Advisor
Office 801-533-8444

I am dedicated to helping our clients build and grow to achieve their financial goals. As a valued partner, I understand the challenges we all face when navigating the peaks and valleys of the markets. In addition to a bachelor's degree in accounting and master's in business administration from the University of Utah, I have earned the CERTIFIED FINANCIAL PLANNER (CFP) and Retirement Income Certified Professional (RICP) certifications. Formal education assists clients in real world applications during all phases of financial planning. When i'm not building financial plans I enjoy running, mountain biking, and hiking with my wife Cindy, and our 4 children. 
Cambria Y Shore, MS
I am a native Utahan who studied musical theater and accounting.  That can sound somewhat disjointed, but I prefer to think that both sides of my brain are equally strong and up to any task i'm given.  I am passionate about helping clients to ensure they are financially prepared for whatever life may bring.  While my main focus on the Gardner Brown team is life, disability, and long-term care insurance, I am happy to answer any question and resolve any issue. I love being able to make a difference in someone's day!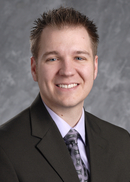 John R Call III